Easter egg hunt goes on as planned despite morning rain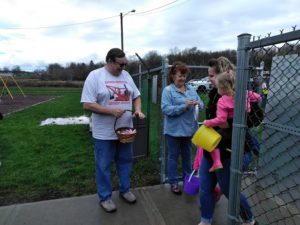 On April 20, 2019, Elks Lodge #519 in Reynoldsville, hosted their annual Easter Egg Hunt.  According spokeswoman Jeri Armagost, the hunt has been a community event for the club for nearly six decades.  The families, children and grandchildren, of the members get together each year on Good Friday to dye the eggs in preparation for the hunt.
Armagost expressed her concern that the early morning downpour would deter participants from joining in.  However, this fear was soon alleviated as the sun came out and the community began to arrive in force.
The participants were arranged into several age groups in order to create a fair opportunity for all involved.  In addition to the eggs themselves, they were also given tickets for Easter basket raffles.  The first raffle winner would get their choice of Easter baskets.  Two winners were also drawn for each group.   An unnamed benefactor also donates fifty cent pieces to the Elks each year that are distributed equally among the children so despite the outcome of the hunt or the raffle, each child goes home with at least one coin.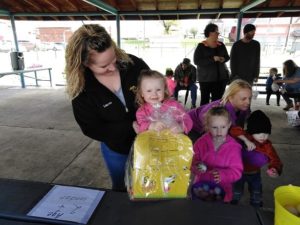 While the Easter Bunny is typically on-site for the event, he was unable to make it this year due to weather conditions.  Despite his absence, the children had a wonderful morning an no one went away disappointed.
Photos and story by Christy Weaver