Fire damages home in Winslow Township
Fire heavily damaged a house along Pancoast Road in Winslow Township, Jefferson County, today.
The call came in after 10:00 this morning for a reported flu fire at the Shenkle residence.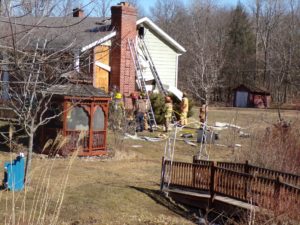 William Shenkle said he had a fire in the fireplace insert and noticed a different smelling smoke. His two sons, Dan Shenkle of DuBois and David Shenkle, who was visiting from Virginia, investigated and found the fire.
Using a garden hose, the Shenkles were able to knock down the flames as firemen arrived. The Shenkles are life-long members of the J.E. DuBois Hose Company #3.
Firemen worked to remove smoldering wood and material from around the fireplace chimney. No damage estimates were available. There were no injuries. The American Red Cross was called in to assist the family.
Fire units from Falls Creek, Reynoldsville, Sykesville, and Brockway were called to the scene as was a unit from Sandy Township.