Fire thought to be accidental now being investigated as arson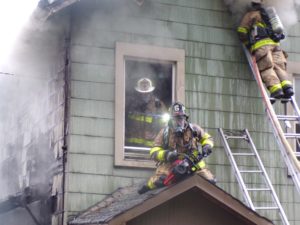 The fire that destroyed a house near Reynoldsville on Tuesday afternoon is now being investigated as an arson.
Reynoldsville Fire Officials have confirmed that a State Police Fire Marshall ruled the cause to be arson. 30-year-old Samuel Jerrell of Sykesville is facing several charges, including arson, criminal mischief, and recklessly endangering another person. Reports indicate Jerrell confessed to setting the fire in the basement of the house.
Initial reports from the scene Monday indicated the fire was accidental in nature but following the investigation Wednesday that was determined not to be the case.
Fire crews from Reynoldsville, Sykesville, DuBois and Sandy Township were at the scene for several hours Tuesday. No one was injured.