Jeff Tech Operating Committee adopts new budget, sends it to the participating districts for approval
The Jeff Tech Operating Committee approved its proposed 2022-2023 budget at its regular meeting on March 28.
The $11.4-million dollar package is a 4.9% increase over the previous year's budget.
In a presentation shown to the committee, School Director Dr. Barry Fillman and Business Manager Sherry Hasselman explained that the new budget total reflects the addition of the $1-million dollar Farm to Refrigerator grant awarded to the school last week (see related story here).
Dr. Fillman said the budget also includes the increased staffing necessary for a projected increase in enrollment. This year there are 482 students, but Dr. Fillman is projecting that number will be around 520 students in the 2022-2023 school year.
The budget also shows the addition of an electrical construction program. Research shows that 74 annual openings in this field annually in the north-central Pennsylvania region..
"This is a good opportunity for a family-sustaining job right here in our area," Dr. Fillman said.
The school and its teachers are in contract negotiations at this time, with the current contract set to expire this year. Hasselman said that fact was considered and anticipated when preparing this package. There's been no word on the progress of negotiations.
The budget will now be sent to the four sending school districts, DuBois, Brockway, Punxsutawney, and Brookville, for consideration and a vote. Final action will be taken at the committee's next meeting on April 26.
Student presenters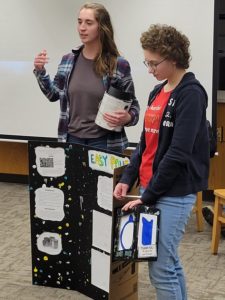 Students who participated in the Husky Dog Pound Challenge at Bloomsburg University on March 24 presented their product proposals to the committee.
Advisor Haley Woodward said the competition was based on the popular TV reality show Shark Tank. The students designed and produced products they then pitched to the judges.
Grace Askey and Sian Jackson presented their paint can pouring lid that's designed to prevent spills. Absent from the presentation were team members Mariska Isaac and Kaylee Wolbert. The team placed 29th in the competition.
Nicholas Highfield presented a product that he and his partners made which was a broad head that implanted a tracing chip inside a deer to make it easier to find. The team also included Jacquette Augustine, Michael Ford, and Dommic Cowley. The team won sixth place in the competition.