Let the Nerf Wars begin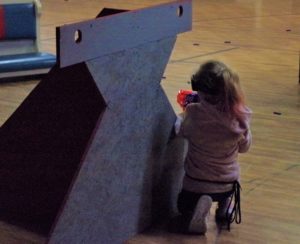 More than 100 players gathered at the Reynoldsville Rollerdrome on Sunday, March 24, to play the inaugural games of Nerf Wars.
Armed with their favorite Nerf gun and issued Nerf darts, 8 teams battled it out in various games. Each game lasted five minutes.
Judges were on hand to declare hits. One hit and the player was out
The rink itself was divided into two courts. Those courts featured different obstacles and shelters the players could use for cover. After each games the teams would rotate sides and/or courts.
Owners David and Jennifer Schuckers got the idea from a convention they attended.