Local man announces candidacy for Jefferson County DA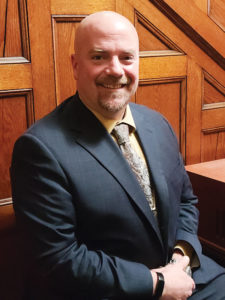 Reynoldsville lawyer Joe Ryan has announced his candidacy for Jefferson County District Attorney.  
"I chose to pursue law for one reason only: to prosecute crimes.  To prepare to be your DA, I've dedicated my career to criminal law.  Since 2005, I've had well over 40 trials, and represented hundreds of individuals.  While I'm proud of my representation of every client, now is the time to fulfill my original goal," Ryan said.  After more than fifteen years of criminal litigation, he has the experience and dedication to protect and represent the people of Jefferson County.
While having represented clients in more than twenty counties, Ryan has focused his practice in Jefferson and Clearfield counties.  His office has been located in Jefferson County since he began his career in 2005, with his concentration on criminal law.  In addition to his criminal practice, Ryan has represented multiple municipalities, and currently is the solicitor for the Borough of Reynoldsville.  
"It's been an honor to assist so many people through the legal system.  My experiences in Jefferson and so many other Counties will allow me to incorporate policies and procedures into the DA's office to benefit the prosecution of crimes here," Ryan stated.
Community involvement is an important part of Ryan's life, having served on many local boards to support his community.  Such service includes the Reynoldsville Community Association, the Reynoldsville Blueprint Communities initiative, the Laurel Legal Board of Directors, and the Brookville Area United Fund.  He is a member of local civic organizations, including BPOE Lodge #519 and FOE Aerie #540.  Ryan is a three-time Past Master of John M. Read Lodge #536 F&AM.
Outside of work and civic commitments, Ryan dedicates time to our local children.  For ten years, he has officiated football at all PIAA levels and in the local youth league.  Additionally, Ryan has served as a coach for the DuBois Area Mock Trial team.
Joe and his wife, Sheila, reside in Reynoldsville.  When not involved with other activities, they enjoy spending time with their three adult children, two adorable grandsons, and two Great Danes.
Photo and story submitted