Major drug pipeline from California to our area shutdown
In the early morning hours of August 31, federal, state, and local police agents, supported by a helicopter, could be seen conducting a raid on Horseshoe Road near Reynoldsville, forcing the lock down of Jeff Tech as a precaution. Other raids around the borough were also observed throughout the morning. In a press conference at the Punxsutawney barracks of the Pennsylvania State Police later in the day, the reason for the raids was revealed.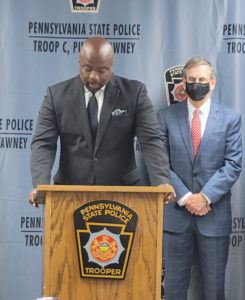 Acting United States Attorney Stephen Kaufman of the Western Pennsylvania District out of Pittsburgh chaired the conference attended by representatives from federal, state , and local departments, including the U.S. Postal Service, the Department of Homeland Security, the Internal Revenue Service, the Drug Enforcement Administration (DEA), Jefferson County District Attorney Jeff Burkett, Clearfield County District Attorney Ryan Sayers, and representatives from state and local police departments.
In the last two years, the agencies worked together through Operation Return to Sender to shutdown a major methamphetamine distribution ring that operated from California to western Pennsylvania.
"This drug trafficking organization was responsible for the distribution of large quantities of methamphetamine, marijuana, as well as cocaine, primarily to Clearfield, Jefferson, and Allegheny counties," Acting U.S. Attorney Kaufman told the members of the press who had gathered at the Punxsy barracks. "It was a multi-agency investigation lead by the Drug Enforcement Administration, but it really required the important assistance and really hard work of all of the law enforcement agencies you see represented here today."
Paris Pratt, DEA Special Agent in Charge of western PA, commented, "Great cases take great partnership and that's exactly what we have here." He added he was proud of what was accomplished by working together.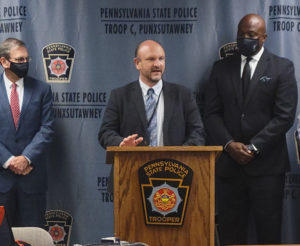 In his comments, Jefferson County District Attorney Jeff Burkett said, "Drug addiction ruins lives, it ruins families, it ruins everything around it. It has a terrible human cost. That's why it's incredibly heartening to see major traffickers of this terrible poison be brought down."
A total of 47 people from six states were named in the investigation which involved six indictments, including a number from this area including:
Kristy Lepionka, 38, of Reynoldsville.
Brenton Ryans, 33, of Reynoldsville
James Williams Jr., 56, of Reynoldsville
Darren Douglas, 36, of Big Run
Darryl Isaacs, 56, of Punxsutawney
Christina Shaffer, 53, of Falls Creek
Brandon Coder, 32, of DuBois
Morgan Gregory, 32, of DuBois
Megan Pyne, 27, of DuBois
Taylor Thomas, 27, of DuBois
Jason Whitaker, 48, of DuBois
Terry Kelly, 60, of Penfield
Chad Gasbarre, 35, of Brockway
Derek Hillebrand, 25, of Troutville
Ryan Schoening, 31, of Rockton
The press release states that all the law provides for a minimum sentence of 10 years imprisonment up to life and a fine of not more than $10-million, or both.