Reynoldsville Foundry celebrates Christmas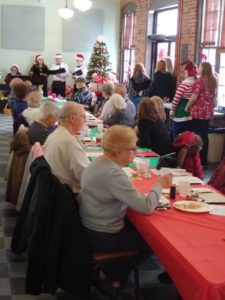 A celebration of Christmas was held at the Foundry Senior Citizen Center in Reynoldsville on December 19.
Volunteers, including students from Jeff Tech, helped to serve the meal and refreshments to the close to 100 guests who attended. The meal was provided by the Jefferson County Area on Aging in Brookville.
Music of the season was provided by a quartet from DuBois under the direction of Eloise Pifer. Santa and Mrs. Claus were also on hand to add to the celebration.
Mary Smith, who co-directs the Foundry with Pete Spuck, said this was the first time the organization provided a holiday program to go along with the annual meal.