Vex Robotics competition at DAMS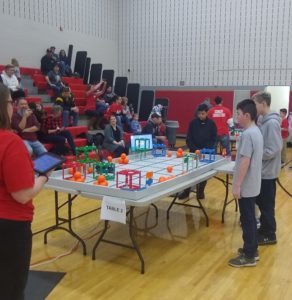 The VEX IQ Robotics Competition was held at the DuBois Area Middle School on January 25. Four teams from Red Bank Valley, Keystone, Valley Grove, and DuBois Middle School competed.
The fast-paced format put the robots the students constructed and programmed to the test.
The middle school team of Peyton Kifer of Reynoldsville and Molly Sensor and Abby Riffe of DuBois placed second in the 2-team alliance teamwork challenge, Their partner team was from Keystone.
DuBois will travel to Cranberry in February for another competition hoping to qualify for the state championships at Clarion University in March.