War memorial committee views new site plans; joins RCA
The Reynoldsville War Memorial Committee met on April 3 and decided to join the Reynoldsville Community Association (RCA).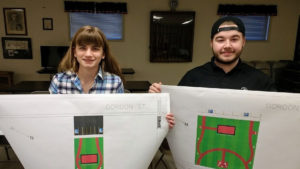 As an independent committee under the RCA banner, the committee will be able to take advantage of the RCA's 501C3 non-profit status for donations. The treasurers from the two organizations will meet at a local bank to open a joint account.
Efforts to acquire property on Main Street are continuing. The committee voted to pay for the appraisal of adjacent properties to expand the park.
Jeff Tech students Lilly Zimmerman and Domanic Auge attended the meeting to present their latest site plan drawings. The plan shows what can be done with two or four lots. Their teacher is Thomas Tinker.
The next committee meeting will be held May 1 at 7 p.m. at the Reynoldsville American Legion.