Deible awarded Reynoldsville Citizen of the Month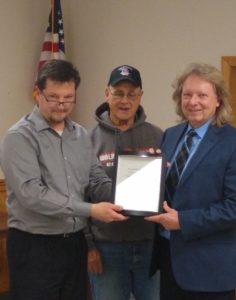 At its January 9 meeting, Reynoldsville Borough Council president Bill Cebulskie announced the formation of a new committee to honor borough residents who work to better the community. At the January 14 meeting, the first Citizen of the Month Award was given to Henry Deible.
Deible has been a leader in the Reynoldsville community for many years as a member of council and other organizations.
"He's always been a part of Reynoldsville with First National Bank and Community First Bank," said council president Bill Cebulskie, who is Deible's brother-in-law and "a father figure to me."
Cebulskie also listed Deible's many achievements and community efforts.
After the presentation by Cebulskie and council member Ralph "Tucker" August, Deible dedicated the award to his family.
"It doesn't come without a lot of sacrifice on the family level also," he said. Many of his family members were at the meeting to watch the presentation.