Reynoldsville Council hears from public; adopts 2021 budget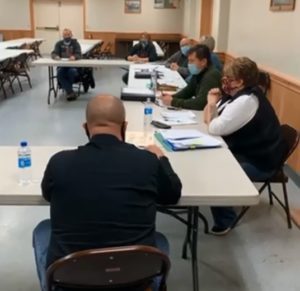 It was an unusual Reynoldsville Borough Council meeting on December 16. With COVID-19 restrictions in place, council members sat masked and socially distanced. Missing from the board were council members Billy Cebulskie, Ralph "Tucker" August, and Darren Scolese, and only one member of the public was permitted to enter the meeting to speak to council at any one time. The main topic of discussion was the police budget for 2021.
As was previously reported by Reynlow Community News, the new budget includes funding for the police department and related items, just not for a part time police officer. Right now, Officer Tammy Murray holds that position, working ten hours a week.
One by one, members of the public were escorted into the meeting by Council President William Cebulskie and seated in a chair distanced from the council table.
Among those coming to council was Emily Smith of First Avenue in Reynoldsville who said she felt mislead by a petition that had been circulating in the borough. She said she was told by someone circulating the petition that "we need a police force in Reynoldsville." She said she signed the petition, but now felt she had been mislead. Cebulskie said he received a number of phone calls complaining about the same thing, and that he also felt the petition was misleading.
According to Cebulskie, the petition mentioned two part time officers, but he cited a motion adopted by a previous council in 2016 that if a police officer had not worked for at least two months, they were no longer a part of the police force. In this case, then, Officer Jeffrey Winfield was no longer a part of the police force and Officer Tammy Murray was the only part time officer.
"A lot of people have called me [asking] why are we eliminating the police force. We're not. We're only decreasing ten hours [of coverage]," Cebulskie said.
Also encouraging council to fund the part time position was former council member Sue Ellen Wells. She questioned the promised Pennsylvania State Police coverage to make up for the loss of the part time officer. Cebulskie said that he has had a discussion with the State Police about that.
"If they have our schedule in advance, we're actually going to get more coverage than the ten hours that were cut," he said. He later said that the State Police have committed to 16 hours of coverage in the Reynoldsville/Winslow Township area when Reynoldsville Police Chief Troy Bell is not on duty, and at "no charge at this time." He showed a video he made Sunday of a State Police officer who had someone pulled over on Main Street.
Wells pressed Cebulskie about the budget move being a personal attack on Officer Murray, which he denied.
"There's nothing personal. I really resent these people saying that there's a vendetta or anything personal. This a financial decision," he said.
Mayor Peach Caltagarone added that the decision to keep Chief Troy Bell over Officer Murray was simply a matter of seniority.
Sara Donato offered the most personal appeal to council to keep the part time position. She said she went into rehab and has been sober for two years, and she credited Officer Murray with saving her life.
"I just think she's a really good addition to this town," she said.
Mark August presented the petition to the council with 731 names, and August said he felt the move to get rid of the part time officer was a "witch hunt." He also felt the State Police coverage wouldn't happen. At times, the discussion with between August and Cebulskie got heated.
August said, "I'm not one sided on this. I think we got two good cops in this town," but then accused council of "singling one person out."
Cebulskie countered, "This is no witch hunt. This is a financial decision that we're doing to see how it works because we need to do other things in this town instead of [letting] the infrastructure of certain things crumble."
Later, as Cebulskie went to get another speaker, a loud argument broke out at the Fire Hall entrance which could be heard as borough resident Roger Walk talked about his water bill and his support for the part time officer.
Budget action
After the public input, which took roughly 35 minutes, council approved a motion to approve the budget which totals $833, 175. They also approved all the related tax resolutions. All of borough taxes remain at the 2020 level.
Games of skill tax
Some discussion was given to the proposed games of skill tax. Council solicitor Joe Ryan said he has not put an ordinance together as of yet because there are some issues that need to be investigated. It's possible the borough cannot adopt such a tax. It was decided to allow Ryan to continue investigating the issue.
COVID-19 employee issues
It was revealed at the meeting that several borough employees had been exposed to the COVID-19 virus and were in quarantine, including Police Chief Troy Bell, who plans to be tested on Friday.
Recreation grant
Council received a letter stating that the state recreation grant request was broken down into two categories: $173,365 dollars for the pool and $25, 235 dollars for the veterans memorial park. At the meeting, Cebulskie stated he felt the grant was approved, but he later contacted Reynlow Community News to say that he misspoke and that there's been no word on the approval as of yet.