Bellamaruro celebrates grand reopening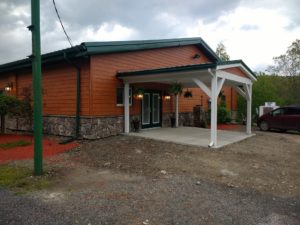 The Bellamauro Social Hall located on Route 950 just outside of Reynoldsville celebrated its grand reopening on May 17. It began with a mixer for the DuBois Area Chamber of Commerce and was followed by music.
Owner Sarah Caltagarone said she and her late husband Joe purchased the property in 2005. It had been a bar, but the Caltagarones remodeled the inside and turned it into a social hall for weddings and other events. By June 11 of 2005 it was ready for her son's wedding.
Recently, the outside of the building was remodeled.
"I wanted the more rustic look and more elegant look outside for people who are having weddings here so it was nice for pictures and for the families to come to," Caltagarone said.
The DuBois Chamber held a ribbon cutting ceremony just prior to the mixer, which was well attended by Chamber members and others.