Mowrey farm milking cows again after fire destroys barn in June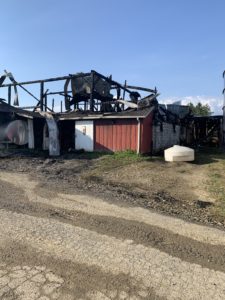 With the help of family, friends, and the community, the Mowrey family was able to begin milking their cows at their dairy farm one week after the milking barn was destroyed by fire near Hormtown.
The fire struck late in the evening of June 25 bringing out Reynoldsville volunteers and nine other area fire companies.
In an interview with Reynlow Community News on July 11, Craig Mowrey said they were able to bring their cows back home to a temporary milking facility one week after the fire with the help of the community.
 "The neighbors…were doing everything they could to take care of our cows," he said. He added that more neighbors helped to haul feed to the cows.
Duaine Mowrey said the milking equipment company came the next day and assessed the situation. They brought equipment in from a farm in New Jersey to set up the current temporary operation. Other area companies helped with electricity, water-well, demolition, and clean up needs.
The plan is to rebuild on the site, but they haven't decided yet just exactly what that would look like. The family has insurance but are not sure yet as to what exactly will be covered. They're hoping to modernize the operation.
The Mowrey's had high praise for the volunteer fire companies who were able to save surrounding buildings and for the neighbors who came to help get the cows and equipment out of the barn that night. They also praised those who helped get them operating once again so quickly.
 "We didn't dump any milk," Craig Mowrey said.
While not entirely certain, the cause of the fire is believed to be a battery shorting out on one of the tractors which then caught fire. Damage estimates were set at $350,000.