Reynoldsville Council rejects Waste Management rate increase request, discusses problems with billing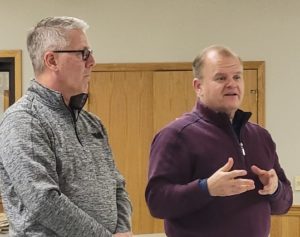 In recent months, Reynoldsville Borough Secretary Jacqueline Dixon was been fielding phone calls from residents who were experiencing problems with their garbage bills from Waste Management, formerly Advanced Disposal. The borough has a contract with the company that expires at the end of this year.
At one point, Dixon posted a statement on the borough's Facebook page that included the following:
"It was brought to the Borough's attention yesterday [Dec. 22] that Waste Management increased everyone's billing by 3% – effective 1/1/22. This was not approved by the Borough Council and a meeting will be held with WM regarding this issue."
That meeting took place on January 3 at the borough council meeting
Bob Burdzy, Public Sector Representative, began the presentation by asking for a 3% percent rate increase starting in the second quarter of this year citing increased expenses. From then on, he answered questions from council members concerning the billing, including several who pointed out that per the contract, Waste Management cannot increase the bills without council approval.
Burdzy apologized and said that residents can deduct the 3% from their bill. Those who have already paid will get a 3% credit on their next bill.
Ed Yahner, Senior District Manger for Waste Management, also attended the meeting and thanked Dixon for working with the company to resolve the problems. He said one problem the company runs into trying to determine who is a customer in Reynoldsville Borough and who is not.
Burdzy later added that he believed the billing errors may be caused by computer coding problems and the company has experienced similar problems in DuBois and Sandy Township.
"Somewhere along the line, these accounts, either the way they were set up…or the transition from Advance's computer to Waste Management's computer did not code Reynoldsville," he said.
Council President William Cebulskie pointed out all the hours Dixon has had to spend working through the problems. Dixon said that she's fielded 426 calls since May of this year concerning Waste Management bills and 97 in the past three days.
After further discussion, Burdzy suggested Dixon go through a list of borough residents with Waste Management accounts.
"I want to fix this," he said.
For her part, Dixon agreed to the idea.
"I'll go through this and tell you who's in the borough and who's not…I'll go through 1100 people if I have to to get it fixed," she said.
Other options were discussed, including the idea that a contact list be included in the next billing so residents know who to call in the company about billing problems.
Eventually the council came back to 3% rate increase request for the next quarter, which led to an interesting roll call vote with the council split 3 to 3 (with Council Member Mike Popson absent) on the motion. It came down Mayor Mark August, who's job it is to break a tie vote. Dixon said in her 40 years as secretary, this was only the second time she remembered this had happened.
Mayor August voted no on the increase. Council member Kyle Gordon, who also voted no, asked that the issue be revisited at a future meeting
"I think your proposal is valid given the rate of inflation and the times that we're in [but] I have a hard time on behalf of our constituents voting for an increase that was already imposed on them without going through the proper channels first, and during your presentation still noting all of the loose ends and bugs that are still in the system and not resolved yet…It's not to say that I'm against it, it's just at this current time I can't in good faith vote to approve it."
After the vote, the council moved on to the rest of the agenda (see that story here).